The Spotlight Is On . . .
Periodically we will put a student or celebrity martial artist, an important event, a parent or sponsor, or martial artist dignitaries In The Spotlight. Visit In The Spotlight often to see who it is! If you want to nominate a person to be In The Spotlight, see Contact Our Dojo to email us.
Uncle Frank Ordonez
Kajukenbo was founded in 1947 at the Palama Settlement on Oahu, Hawaii. It developed out of a group calling themselves the "Black Belt Society" which consisted of five black belts from various martial arts backgrounds who met to train and learn with each other. This was the beginning of an evolutionary, adaptive style designed to combine the most useful aspects of the martial arts.
One of these five belts who founded Kajukenbo is Frank Ordonez. He is credited with bringing the art of Judo to Kajukenbo. Addtionally, Frank Ordonez created the Kajukenbo prayer in 1947 that is recited at the beginning and ending of Kajukenbo classes around the world today. The Prayer shows Kajukenbo's beginnings as a Christian and United States based martial art.
Sifu Craig and Sifu Cathie recently had the great honor and pleasure of spending some time with Uncle Frank Ordonez. He was pleased to hear that all of our CLAW classes begin and end with his Kajukenbo prayer.
Frank Ordonez is pictured on the left as you view the below photos. The person seated to the right is Great Grand Master Al Novak, another Legend in Martial Arts well known for training with Bruce Lee.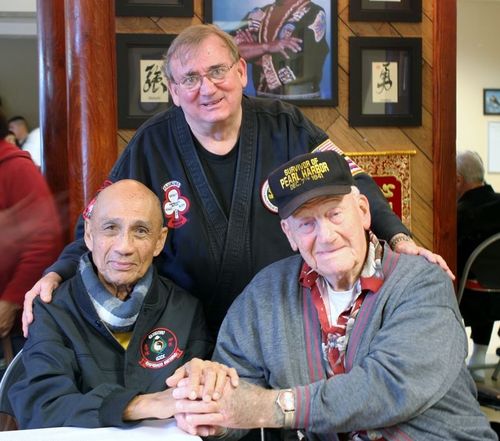 Sifu Craig and Sifu Cathie With Frank Ordonez and Great Grand Master Al Novak